5 Reasons To Enjoy Singledom this Valentine's Day
We love to love, as much as anyone, but this Valentine's Day we

invite the young and young-at-heart to bask in the joys of singledom at BYD Lofts

.

Be naughty, be nice; flirt or relax -- between our

i

ntimate bistro and wine bar

, inviting rooms and poolside retreat, BYD Lofts is the perfect oasis to celebrate your freedom!

Need more encouragement? Here are 5 reminders for why being single can rock your world.

1. First and foremost: Being single is better than being in a bad relationship. Repeat: Much better than a bad relationship!

We tend to romanticize the situations of couples around us, but no relationship is perfect, and if you recently ended a relationship, there was probably a good reason. Plus, remember, those "perfect" couples are stressing out right now trying to find the perfect gift or plan the perfect date. Which brings us to…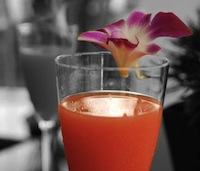 2. No gift giving! As a single, take that money and celebrate yourself by doing what you want.

Have a glass of wine (or two)

, a beer (or two), have a spa day, or really whatever your heart desires.
3. Speaking of saving your hard earned cash, remind yourself of your freedom by taking off to parts (and adventures) unknown. Of course, we're partial to the tropical joys of Phuket, Thailand, but the point is, the

choice is yours and your alone

!
4. Tear Up the Town. This will work especially well if you're in Phuket, but grab a few friends and plan a night on the town -- better yet, flirt your way through town, just because you can. Phuket's Patong nightlife always results in a surprise or two to talk about the next day! Start your evening at BYD Lofts wine bar, then take a short stroll and

see where the night takes you

.
5. Rub it in. Technically we should be above this, but post-Valentine's Day bragging is significantly more fun when you're single. Imagine it: Pricey dinner for two vs. indulging in your guilty pleasure? Racking your brain for the perfect gift vs. lounging on the beach? When all your friends are feeling let down by high expectations post-Valentine's Day,

bask in that gadget, spa day or flirtation you treated yourself to

.